Atlanta Thrashers Atlanta Thrashers "Atlanta Thrashers" Hockey "Hockey" Tharashers "Thrashers" NHL NHL "NHL"
Trashed - Atlanta Thrashers Unofficial site
Welcome to my Atlanta Thrashers page.
This site is in no way associated with the Atlanta Thrashers organisation,
so you can believe everything I say!!.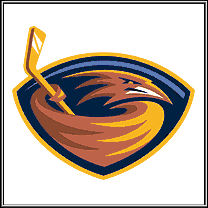 Summary:
Games: You will find here my commentaries on every games, complete with who rocked, who sucked and the phone number of that blind referee. If your looking for stats, go to ESPN. Just whats and whys here, baby. This season, I will comment a few games. Stay tuned for my appreciation of the SlapShot final game...
News: I will try to keep you up to date on the latest Thrashers news and what I think about it. My mission statement: be better than the AJC! Which means that you won't see any ass-licking here... I am not looking for free tickets or a job from Turner Sports. Not that I would turn down anything!!!
Players: Bios and what I think of our Thrashers. Until the expansion draft, I will propose my dream team and my extensive list of the dead weight of the NHL.
Stats: Just the basic and who-need-to-know numbers. I will also post your own two-cents. Comments welcomed (including grammar, because, you see, I am a transfer from Quebec, land of the Lafleur, Lemieux, Richard and 7 million hockey fans with names you can't pronounce correctly).
Links: Guess what's in there... Click here to see what an actual thrasher looks like.

Much like the team, this site is under construction so look from time to time to see what's new.
Last update: September 24, 1998.
If you have comments or suggestions, email me email me

This page has been visited

times.